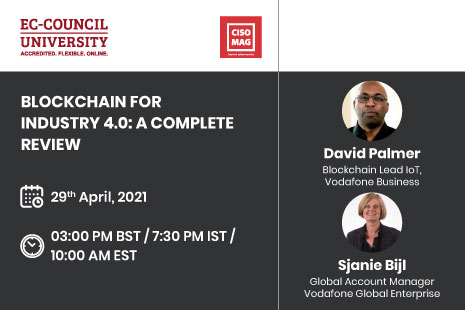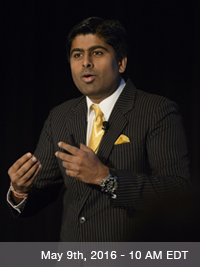 Speakers:
David Palmer, Blockchain Lead IoT, Vodafone Business
Sjanie Bijl, Global Account Manager Vodafone Global Enterprise
Topic: Blockchain for Industry 4.0: A Complete Review
Date of Webinar: 29th April , 2021
Time and Location: 3:00 PM BST/ 7:30 PM IST/ 10:00 AM EST
Watch Now
Speaker Bio:
David Palmer is the Vodafone Business IoT lead for Blockchain. He has worked in IoT for 10 years and has been instrumental in the Vodafone Business assessment and exploration of Blockchain technology and its potential to add value in the IoT eco-system. More recently David has been exploring the application and integration of finance, payment and telco technology into the emerging transition from Internet of Things to economy of Things
Sjanie Bijl is Global Account Director at Vodafone Global Enterprise – International Public Sector, responsible for European Commission.
She is helping public organizations succeed in a digital world. With expertise in connectivity, leading IoT platform, and Vodafone's global scale, she supports delivering outcome based results that organizations need to progress and thrive.
Topic Abstract:
Abstract: Due to the demand of new solutions during the last few decades, there is an exponential increase in the usage of various smart applications such as smart farming, smart healthcare, supply-chain & logistics, business, tourism and hospitality, energy management etc. However, for all the applications, security and privacy are major concerns keeping in view of the usage of the open channel, i.e., Internet for data transfer. Although many security solutions and standards have been proposed over the years to enhance the security levels of smart applications, but the existing solutions are either based upon the centralized architecture (having single point of failure) or having high computation and communication costs. Moreover, most of the existing security solutions have focussed only on few aspects and fail to address scalability, robustness, data storage, network latency, auditability, immutability, and traceability. To handle these issues, blockchain technology can be one of the solutions.
Blockchain technology is poised to become a leading solution to handle issues like scalability, robustness, data storage, network latency, auditability, immutability, and traceability in various industries. This webinar will propose a systematic review of various blockchain-based solutions and their applicability in Industry 4.0-based applications.
Key Takeaways:
Industrial applications of Blockchain (telecommunications, retail, healthcare, manufacturing, automotive, banking and finance, voting, etc.).
Systematic review of various existing and upcoming advancements in blockchain.
Blockchain as the future of the economy and everything around us!
*Examples, analysis, views and opinion shared by the speakers are personal and not endorsed by EC-Council or their respective employer(s)