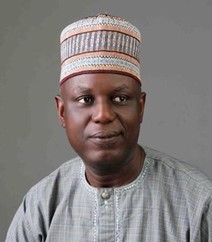 Speaker: Engr. Ifeanyi Frank Ogochukwu,
Designation: Chief Technology Strategist, Debbie Mishael Group
Topic: Benefits of a Vendor- Neutral Network Security Certification
Date of Webinar: 20th jan, 2021
Time and Location: 3:00 pm WAT/ 7:30 pm IST/ 2:00 pm GMT
Watch Now
Speaker Bio:
¬Engr. Ifeanyi, a focused, innovative, passionate, result oriented, highly driven consummate and strategic professional and technocrat infused with both public and private sector experience with multifaceted knowledge, skill and competence in Aviation, ICT, Telecommunications, Cyber Security and Project Management, with proven track record in managing resources, securing digital assets, capacity building and influencing others to create value, driven by the vision of maximising opportunities and bettering people's lives
Ifeanyi a Licensed Air Traffic Safety Electronics Specialist; is a Certified Information Security Consultant, a Global Advisory Board member of the EC Council, IT Business Manager, Certified Management Trainer, CNS/ATM Specialist, Fellow of the Nigeria Computer Society, Fellow of Institute of Aviation Management, Fellow Chartered Institute of Information and Strategic Management, Member Computer Professionals of Nigeria, Council of Registered Engineers of Nigeria (COREN), Institute of Management, IT Ambassador – ICITP, SA; Facilitator, Coach and Public Speaker.
Ifeanyi currently the Chief Technology Strategist for Debbie Mishael Group and an Instructor – Network and Systems Security at the Digital Bridge Institute, Nigeria; was the pioneer General Manager and Chief Information Officer – ICT, Nigerian Airspace Management Agency (NAMA). He was also Chairman/Lead Working Group 4 (WG 4) of the International Telecommunications Union (ITU) Focus Group on Aviation Applications in the cloud for Flight Data Monitoring (FG AC) – Flight Tracking and Data Streaming. Managed a team comprising of experts from a multi-stakeholder international global aviation – airlines, telecommunications, and satellites organisations – focused on "feasibility of using recent developments in commercial aeronautical data link services, as well as reusing existing infrastructure, for real-time flight data streaming where appropriate"; Project Coordinator, West and Central African Air Transport Safety and Security Programme (WCAATSSP), NAMA PIU. Some other key initiatives undertaken include leading the Nigerian Airspace Management Agency Airspace Vulnerability Security Assessment Audit – (ICAO Annex 17, Annex 14 and ISO 27001); Microsoft Hero on the security capabilities on Windows Server 2008. He is the Convener – CIO Masterclass Africa – an IT Leadership Initiative
Ifeanyi, is an Aeronautical Telecommunications Engineering and Business Administration graduate, a Licensed Air Traffic Safety Electronics specialist also earned with distinction a Master's Degree inCommunications Management, Masters in Information Technology, a Post Graduate Diploma in Transport Management and a Post Graduate Certificate – IT and Telecoms Law.
Topic Abstract:
Since tools and technologies keep evolving, professionals in the industry – have to jump from vendor to vendor, platform to platform. This is where a vendor-neutral network security certification comes in useful because essentially security is way beyond tools and technologies, as it frees them from being chained to one platform.
Key takeaways:

*Examples, analysis, views and opinion shared by the speakers are personal and not endorsed by EC-Council or their respective employer(s)