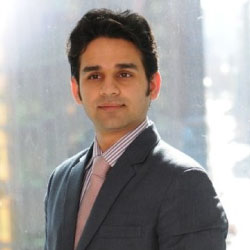 Name: Umang Handa
Designation: : Director, Cybersecurity,
Organization: PwC
Topic: Artificial Intelligence and Cybersecurity
Date of Webinar: 26th September, 2019
Time and Location: 12:00 pm EST/ 9:30pm IST/ 5pm GMT
Watch Now
Speaker Bio: Umang Handa is a Director in PwC Cybersecurity consulting with over a decade of experience in designing, architecting, implementing and running Next generation Cyber Security analytics and operations centers (NG-SOC). He has global experience of serving clients in Australia, Europe, North America and Africa.
He has developed a number of innovative methods in Artificial intelligence, machine learning and analytics to better help detect cyber incidents in an advanced fashion, as well as optimize SOC.
He is well versed with advanced security operations concepts such as cybersecurity data lake design, build and implementation, machine learning models, cybersecurity automation, cyber threat hunting and cyber threat intelligence.
He also holds Masters Degree in Cyber Security.
Topic Abstract: Artificial Intelligence (AI) powered cyberattacks are not a hypothetical future concept. All the required building blocks for the use of offensive AI already exist: highly sophisticated malware, financially motivated – and ruthless – criminals willing to use any means possible to increase their return on investment, and open-source AI research projects which make highly valuable information available in the public domain.
Artificial intelligence, in conjunction with machine learning and big data models are being increasingly used in decision making with a high probabilistic certainty, close to the human certainty.
The key is to use AI as a decision engine to act as a force multiplier for your cyber operations
*Examples, analysis, views and opinion shared by the speakers are personal and not endorsed by EC-Council or their respective employer(s)