Date: September 29, 2022
Time: 9 a.m. CDT/5 p.m. EAT/7:30 p.m. IST
Topic: Accelerating Your Cybersecurity Career in Today's IT Ecosystem
Watch Now
Abstract: Cybersecurity is a promising field with extensive opportunities for growth. One frequently asked question to any cybersecurity professional is, "How do I start or transition into a cybersecurity career?"
However, the dynamics are changing with the advent and implementation of new technologies. A recent example is cloud adoption, which has significantly transformed the cybersecurity landscape. To stay relevant, aspiring cybersecurity professionals will have to be flexible in their career trajectories.
There are many cybersecurity career options you can pursue, from penetration tester to cybersecurity consultant and beyond. After deciding which path is right for you, the first step in your cybersecurity journey should be to acquire the specialized skills and knowledge you'll need to succeed. This webinar will discuss various cybersecurity specialties to consider, how to advance your career in the field, and strategic planning to position yourself for success in the field.
Key takeaways:
Understanding your cybersecurity career options
Knowing when to change roles
How to develop new skills for career development
Entrepreneurship vs. employment in cybersecurity
Speaker: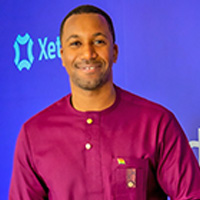 Dr. Bright G. Mawudor, Chief Technology Officer at Xetova
Bio: Dr. Bright G. Mawudor, Chief Technology Officer at Xetova, is the founder of the cybersecurity collective AfricaHackon, the first-ever live demonstration cybersecurity conference in East and Central Africa. He holds a Ph.D. in IT convergence and application engineering with a focus on information security from Pukyong National University, South Korea.
Dr. Mawudor has over 10 years of experience in the cybersecurity industry, with strong expertise in cybersecurity strategy building, resilience, and system penetration testing. Technically proficient and skilled in cybersecurity, he is a team player and an outstanding leader who has successfully implemented IT security systems to curb and mitigate risks.
In addition to presenting at over 150 cybersecurity conferences, Dr. Mawudor has been recognized by Tribe of Hackers Blue Team 2020, was named one of Kenya's Top 40 Under 40 by Business Daily, and has led cybersecurity projects at Dimension Data, Cellulant, and Ushahidi.
*Examples, analysis, views and opinion shared by the speakers are personal and not endorsed by EC-Council or their respective employer(s)