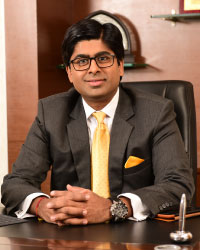 Name: Jay Bavisi
Designation: Founder & President
Organization: EC-Council Group
Topic: A Leadership Career in Cybersecurity
Date of Webinar: 20th June, 2019
Time and Location: 2:30 PM – 3:30 PM IST
Watch Now
Speaker Bio:
Jay Bavisi is the award-winning founder and President of the EC-Council Group, a global leader in cybersecurity consultancy, training, education, publishing, events, and certification.
He is a highly sought after speaker that shares his thoughts globally. Jay was named as the Keynote Speaker for the National Initiative for Cyber Security Education (NICE) Conference in Columbia, Maryland.
An information security evangelist and architect, he regularly shares his insights with law and policy makers at various international conferences and seminars globally.
Abstract:
Cyberattacks are a threat to businesses worldwide, and they are getting larger and more sophisticated.
As the industry grapples with an approach to protecting their assets against these threats, there is a huge demand for security professionals. Recent studies have shown that vacancies in cyber-security positions have skyrocketed. Headline grabbing breaches in the media, has driven the world to pay serious attention to the need for a CISO in organizations. Whether you seek to enter or advance in cybersecurity, achieve leadership status, or start your own cybersecurity venture, this talk will guide you on methods to reach your goals.
*Examples, analysis, views and opinion shared by the speakers are personal and not endorsed by EC-Council or their respective employer(s)