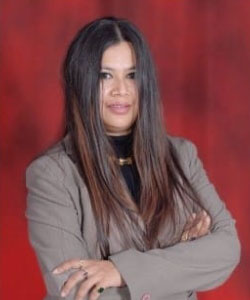 Speaker Dr. Lopa Mudraa Basuu,
Designation: Executive Director Cyber Risk & Information Security, Sysinnova Infotech
Topic: A Career in Cybersecurity: Steps to become a Defender
Date of Webinar: 29th Sep, 2020
Time and Location: 5:30 pm IST/ 12:00 pm GMT/ 8:00 am EST
Watch Now
Speaker Bio:
Dr. Lopa Mudraa Basuu has been choreographing IT Security Compositions for two decades with a proven track record. Shattering the glass ceiling, she accepts challenges and continuously contributes as a business enabler in different sectors that include – automotive, BFSI, ITES & manufacturing. She has expertise in – Enterprise Security & Risk Governance Portfolio Management, Strategic Alignment of Technology with Business & Regulatory requirements, Cyber Defense Program Management, Security Architecture, Security Operations, Privacy Program Management, Third Party Risk Management, Shadow IT Governance, Risk based Tech-Audit, Standardization & Compliance Program Lifecycle Management. Dr. Basuu serves on Advisory Boards and is also a Jury Member across various industry forums. She authors articles and is a regular speaker & panelist in the professional public domain on the same. She also mentors & guides the professionals.
She holds a master's degree in information technology and Doctor of Excellence in (hc) Cyber Risk Management along with required industry certifications, including C|CISO, CHFI, ECSA & CEH. Global industry leaders like – NISSAN Motor Corporation (Global Head Cyber Security Risk Governance & Compliance), OCWEN (Global Director IT Risk Operations), SLK Global (AVP & Head Enterprise Security & Risk Governance), MetLife (Manager IT Security & Quality) and Infosys (Consultant Security Audit & Architecture) are amongst the organizations to which she has contributed in her career till now.
Her contributions to the security, privacy & risk fraternity has been recognized by industry through – Most Inspiring 10 Digital & Tech Leaders In India; Top Women in Cyber Security in INDIA 2019; CSO 100 AWARD 2019 & 2018; CISO MAG Award – InfoSec Leader Of The Year 2019; CIO Leader of The Year 2019; INDIA's Top IT SECURITY INFLUENCERS & COMMUNITY CONTRIBUTORS AWARD 2019 & 2018; INFOSEC MAESTROS AWARD 2019, 2018 & 2014; Big CIO 50 Innovators Award 2019; CYBER SENTINEL AWARD 2018; IT WORLD CHANGE AGENT AWARD 2018, TOP 100 CISO AWARD 2015, 2014 & 2012; C|CISO OF THE YEAR 2015; GRC BEST IMPLEMENTATION AWARD 2014.
Topic Abstract:
Cyber is a sector agnostic field and an ocean of opportunities that has no restriction of who can be a part of it. One single breach can cause an organization to bleed millions. With the increasing number of sophisticated attacks, it's imperative for businesses to detect & defend attacks proactively. This is where cyber defenders come in.
A Cyber Defender is always looking proactively ahead to the possibilities of an attack and helps defuse them through effective handling and in-time response.
This webinar will help you harvest the many opportunities available and build your career as a cyber-defender.
Key Takeaways:
Verticals of Security & Risk Organization
Prospects within SOC
Incident management as a career opportunity
Knowledge – that key to switch the career
Skills that ignite your growth
*Examples, analysis, views and opinion shared by the speakers are personal and not endorsed by EC-Council or their respective employer(s)
Don't miss out on an opportunity to prove that you have what it takes to win a merit-based scholarship worth USD 6,000! Learn more about EC-Council University's Mega Cyber Challenge today: https://www.eccu.edu/mega-cyber-challenge/
Hint: This Cyber Talk by Dr. Lopa Mudra Basu will help you through the first round of the Mega Cyber Challenge!