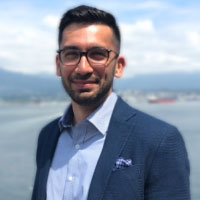 Name: Nabil Zoldjalali, Senior Cyber Security Technology Manager at Darktrace
Topic: Autonomous Cyber Defense: AI and the Immune System Approach
Date of Webinar: 9th April, 2019
Time and Location: 9:30 am EST/ 7pm IST/ 2:30pm GMT
Watch Now
Speaker Bio: Nabil Zoldjalali is a Senior Cyber Security Technology Manager at Darktrace, based out of the company's Toronto office. Nabil has comprehensive technological experience with Darktrace's Enterprise Immune System, the only AI technology capable of detecting and autonomously responding to early-stage cyber-threats. He advises Darktrace's strategic Fortune 500 customers in North America on advanced threat detection, machine learning, and automated response. Nabil graduated from McGill University with a Bachelor of Engineering in Electrical and Electronic Engineering.
Topic Abstract: Global ransomware attacks like WannaCry already move too quickly for humans to keep up, and even more advanced attacks are on the horizon. Cybersecurity is quickly becoming an arms race — machines fighting machines on the battleground of corporate networks. Algorithms against algorithms.
Artificial intelligence-based cyber defense can not only detect threats as they emerge but also autonomously respond to attacks in real time. As the shortage of trained cyber analysts increases, the future of security seems to be automatic. But are humans ready to accept the actions that machines would take to neutralize threats?
Darktrace recently ran tests across enterprises of all sizes in a variety of industries and has subsequently deployed AI-based autonomous response in over one hundred organizations. In this presentation we will explore lessons learned and hear about several cases in which autonomous response technology augmented human security teams."
In this session you will learn about:
– AI approaches and algorithms for detecting and responding to threats
– How human teams adopt (or resist) automated defenses
– The concepts of 'human confirmation' mode and 'active defense'
– Success stories across smart cities, genomics organizations, and industrial control systems
*Examples, analysis, views and opinion shared by the speakers are personal and not endorsed by EC-Council or their respective employer(s)