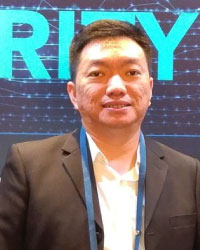 Speaker Frenky Tjioe,
Designation: Head of Information Security Governance, Risk and Compliance
Topic: Information Security and Data Governance- "How they work together"
Date of Webinar: 25th June, 2020
Time and Location: 2:00 pm SGT/ 11:30 am IST/ 4:00pm AEST
Watch Now
Speaker Bio:
Frenky Tjioe is a security compliance and data protection professional with 22 years of experience in software development, project management, information security, technology risk management, audit, and compliance. He is currently heading the security governance and compliance department of Asia's largest low-cost carrier. Some reputable companies he worked for include the OCBC Bank, KPMG, and IBM. In his spare time, he loves to read about the latest development in computer security, law, and international relations.
Topic Abstract:
"Data Security" as a practice is a very old nomenclature which made a comeback in recent years due to the data privacy or data protection requirements. Many security practitioners even started to claim "Data Security and Privacy" as a new specialisation. The current information security best practices have it all without a need to reinvent the wheel. One way to have robust data security and privacy function in an enterprise is by making sure that Information Security and Data Governance practices coexist and working together. Data Governance is not a daunting task if it is piggy backing onto the existing organizational functions, and Information Security does justify the existence of Data Governance.
Key Takeaways:  
Knowledge of available best practices for data security & privacy 

 

Proposed data governance framework 

 

How information security and data governance practices could coexist and work together

 
Note:
Are you up for a surprise? Pay close attention to what our speaker is saying during the Webinar and brace yourself for questions that we will be asking you via our Kwizzer App. Sending the right answers can help you win exciting prizes that will be announced at the end of the Webinar! Download the App on your phone today and get ready for a fun interactive session.
Participating candidates will receive a Certificate of Attendance