Date: October 7, 2022
Time: 9:30 a.m. EDT/2:30 p.m. BST/7 p.m. IST
Topic: Avoiding Cyberterrorism Through Actionable Intelligence
Register
Abstract: According to the United States Institute of Peace (USIP), cyberterrorism can be best defined as the combination of terrorism and cyberspace. By inciting violence or spreading fear among a target population—for example, by destroying key infrastructure, stealing sensitive information, intercepting military communications, or advancing an extremist political agenda—cyberterrorist attacks are carried out to further nefarious political or social objectives (Sheldon & Hanna, 2022; Yunos & Sulaman, 2017).
Cyberterrorism has grabbed headlines in the recent past within the information security community and government bodies. In an era of digitalization and rapid technology advancements, the havoc caused by cyber terrorists can debilitate economies, disrupt organizational infrastructure, and put national security at risk.
This webinar will discuss the measures we can take to combat cyber terrorism and avoid their serious consequences. Participants will learn how to collect, assess, and share actionable intelligence to prevent security threats.
Key takeaways:
How serious is cyberterrorism in 2022?
What steps can be taken to manage vulnerabilities and thwart cyberattacks?
Why is threat intelligence important to counter cyberterrorism?
Speaker: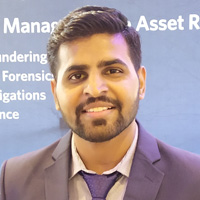 Rahil Karedia Senior Threat Intelligence Specialist, Nomura
Bio: Rahil is a trusted, knowledgeable cyberspace veteran with more than seven years of experience in operational security domains such as security operations centers (SOCs), threat intelligence, incident response, and counter-terrorism. He has assisted corporate, government, and defense organizations from diverse industries in effectively managing the cybersecurity workforce by providing clear visibility on their cyber risk profile and exposure to cyber threats.
Rahil focuses on terrorism and human trafficking issues: he works closely with United Nations (UN) and INTERPOL offices across 195 countries. He also currently serves as a global advisory board member for EC-Council's C|TIA training and certification program.
References:
Sheldon, R. & Hanna, K. (2022). Definition: cyberterrorism. Tech Target. https://www.techtarget.com/searchsecurity/definition/cyberterrorism
Yunos, Z. & Sulaman, S. (2017). Understanding cyber terrorism from motivational perspectives. Journal of Information Warfare, 16(4), 1–13. https://www.jstor.org/stable/26504114
*Examples, analysis, views and opinion shared by the speakers are personal and not endorsed by EC-Council or their respective employer(s)