Master's Degree in Cybersecurity
100% Online. Flexible. Accredited
New Term Starts on January 8, 2024
Master's Degree in Cybersecurity
100% Online. Flexible. Accredited.
New Term Starts on January 8, 2024
Cybersecurity Master's Degree Program Online
Overview
ECCU's Master of Science in Cyber Security (MSCS) program prepares professionals to assume cybersecurity and information assurance leadership roles in corporations, agencies, and organizations. A curriculum rich in computer security management, IT security threat assessment, incident response, organizational management and behavior, and leadership challenges students to become creators of knowledge and inventors of processes.
ECCU's online master's in cybersecurity has been divided into a set of core courses that provide the necessary skills in cybersecurity, organizational behavior, and structure, research, and writing. The cyber security master's degree then offers various specializations to allow students to select specific fields of study that they are passionate about, each having well-defined job prospects, derived from the NICE  framework, affiliated with them.
ECCU's cyber security master's degree is offered 100% online, allowing students to complete coursework in a timeframe that fits their schedule. This also requires that the student has the appropriate technology and connectivity to sustain constant participation in class activities.
EC-Council University has been ranked in the "Top 45 Online Master's in Internet Security Degree Programs" by Intelligent.com, highlighting our high standards of quality postsecondary education.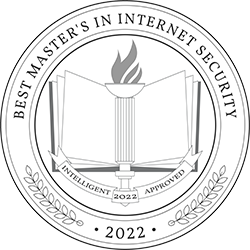 About Master of Science in Cyber Security
Developed from a learning model based on Bloom's Taxonomy, the objectives of ECCU's cyber security master's degree program are to identify what students should learn, understand, and be able to do based on their EC-Council University coursework.
The university's cyber security master's degree programs are established with a mix of both business management and applied practical technology studies. This is based on the industry's need to have a balance of applied skills and disciplines in both technical domains of research and practical business knowledge in the workplace. The purely technical theory or heavily managerial focus of some programs does not produce as well-rounded a cybersecurity expert as is generally desired by the industry.
What you will learn upon completion of a Master's Degree in Cyber Security:
ECCU's master's in cyber security program will help you train in the following skills:
The application of technical strategies, tools, and techniques to secure data and information for a client or customer.
Adherence to a high standard of ethical behavior.
The use of research in both established venues and innovative applications to expand the body of knowledge in cybersecurity.
The application of critical thinking to creatively and systematically solve the problems and meet the challenges of the ever-changing environments of cybersecurity.
The mastery of the skills necessary to move into leadership roles in companies, agencies, divisions, and departments.
Course Structure
The course structure of ECCU's master's degree in cyber security is presented over 10-week terms and consists of assigned readings, threaded discussions, case studies, written analysis, research projects, and examinations.
Students of the master's degree in cyber security must spend 10-12 hours of study a week to complete the work. ECCU encourages regular and frequent student-faculty interaction via the internet. The syllabus and grading rubrics of the cybersecurity master's degree set out the course requirements, expectations, and timelines, and students are kept abreast of their progress in the course through the My ECCU Online Learning Management System.
Course Delivery of Masters in Cybersecurity
Coursework of Master's in Cyber Security degree program is delivered through a 100% online, providing the flexibility of time management whereby students can attend to coursework at any time of day/night or weekends (24×7). There is a structure to the week and term whereby attendance and submissions must meet predefined deadlines each week and weekly attendance and participation are mandatory. Synchronous scheduled class times are not utilized, but adherence to discussion and homework weekly posting deadlines are.
ECCU's cyber security master's degree utilizes traditional university 10-week terms and is structured accordingly. The course delivery sits in a flexible middle ground between the structure of set class times and attendance and the open-ended system of self-paced independent study courses.
Each course under the master's degree in cyber security program is instructor-led by credentialed professors with industry experience with a maximum enrollment of 30 students. Guided discussion, interaction/engagement, assistance/support, and grading/feedback will be done with your professor weekly as the course proceeds.
Courses in the masters in cyber security typically consist of a mixture of weekly threaded discussions, reading materials, iLabs (ECCU's online virtual platform to practice), presentation support (PowerPoint and/or video), quizzes/exams, and/or research projects/papers.
Candidates who wish to pursue ECCU's master's in cyber security online degree can choose one of its five specializations – Security Analyst, Cloud Security Architect, Digital Forensics, Incident Management, and Business Continuity and Executive Leadership in Information Assurance

Virtual Labs
100% Virtualization for a Complete Learning Experience!
iLabs was built for you. Whether you're a beginner or an expert, iLabs is entirely customizable to your needs. No experience necessary!
Practical hands-on learning provides access to real-world tools and scenarios, boosts knowledge retention, and is proven to be more effective at preparing you for the job!
Admission Requirements for MS Cybersecurity
Applicants for admission must have a Bachelor's degree from an accredited institution and a TOEFL score of 550 or better (or proof of English competency).
For more information about admission requirements, please visit our Admission page.
Student Enrollment Application.
Official government ID or passport (international students).
A photo of yourself holding your official government ID.
Official transcript(s) from the institution where the student received bachelor's degree or most recent master's degree.
An official evaluation of international credits (for students with international transcripts only).
Proof of English proficiency (international students only; see the section on English Requirement for International Students).
Application fee.
Graduation Requirements
EC-Council University will award the Master of Science in Cybersecurity degree upon successful completion of all degree requirements.
In addition to the specific degree requirements, each candidate for graduation must meet the following requirements:
Completion of thirty-six (36) semester credits of 500 level courses in which the candidate earned a cumulative GPA of 3.0 or better.
Satisfactory completion of the summative capstone course.
All degree requirements must be completed within one and a half times the program length or have a cumulative course completion rate of 67% of coursework from the date the student enrolls in the university and begins the MS in Information Security program
Industry Certifications Included in the Programs!
ECCU understands the modern students need to be industry-ready. Hence, all of EC Council's relevant industry certifications have been included in the various specialisations. Earn up to 3 industry certifications for any specialisation selected.
Certifications

Master' Degree
Courses
ECCU
Student Price
ECCU 500
Managing Secure Network Systems
Inclusive
ECCU 501
Ethical Hacking and Countermeasures
Inclusive
ECCU 502
Investigating Network Intrusions and Computer Forensics
Inclusive
ECCU 506
Conducting Penetration and Security Tests
ECCU 503
Security Analyst and Vulnerability Assessment
Inclusive

Exam Fee: $799

ECCU 513
Disaster Recovery
Inclusive
ECCU 522
Incident Handling and Response
Inclusive
ECCU 523
Executive Governance and Management*
Inclusive
ECCU 523
Executive Governance and Management*
Exam Fee: $999
*Upon successful completion of this course, students will be provided with an opportunity to take the EC-Council Information Security Manager (EISM) certification exam.
Note: Students who are interested in taking the CCISO exam will need to purchase a voucher from the ECCU Bookstore; in order to take the CCISO exam, student must show at least 5 years of experience in three of the CCISO domains.
Pricing: Master of Science in Cyber Security
TUITION FEES
TOTAL TUTION FEE*
$19,440
The ECCU Governing Board has defined the regions. Student tuition rates are based on their official government photo ID that was submitted with the student admission application to determine the student's region.
Transfer of Credits
As a prospective EC-Council University student and current industry-recognized certification holder, you can also earn semester credits toward your cybersecurity courses based on your prior learning/industry certifications.
Under the prior learning portfolio policy, ECCU for its cybersecurity master's degree accepts certifications related to ethical hacking, penetration testing, network defense, digital forensics, incident handling, and much more.
Click here to read more about the EC-Council University Transfer of Credits program.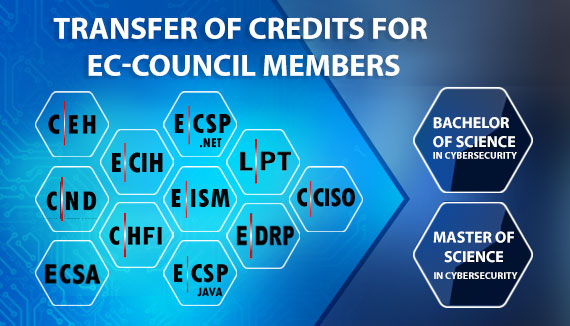 ECCU's Cybersecurity Masters Degree Specializations
The Information Security Analyst specialization of the Cyber security masters degree focuses on testing methods and techniques to effectively identify and mitigate risks to the security of a company's infrastructure while providing application and network-based security vulnerability assessments, pen testing, and securing wireless networks including authentication, authorization, and encryption in accordance with industry-accepted methods and protocols.
By specializing as an IT security analyst, you will be given the opportunity to train in various domains through specialized online ethical hacking and penetration testing courses. The average cybersecurity analyst salary, according to PayScale, is $75,883.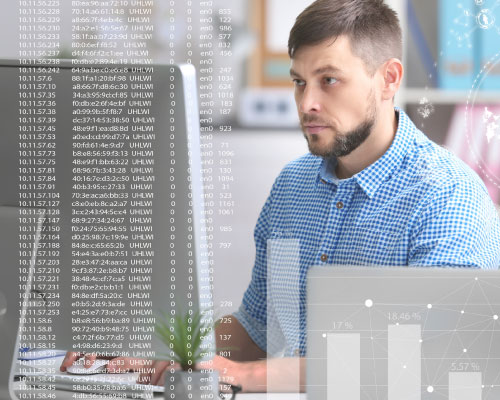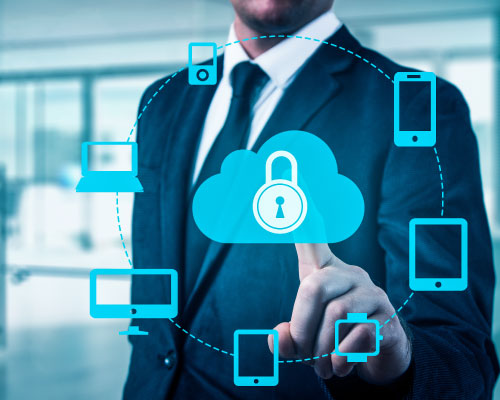 The Cloud Security Architect specialization skills of the Cyber security masters degree are focused on planning, analyzing, designing, configuring, testing, implementing, maintaining, and supporting an organization's on-premise and cloud security infrastructure.
The Cloud Security Architect's responsibilities include training to harden enterprise architecture and cloud architecture from the most advanced attacks and secure programming practices to overcome these inherent drawbacks to pre-empt bugs from the code and designing and implementing cloud security. The average cloud security architect salary, according to PayScale, is $123,642.
The Digital Forensic specialization of ECCU's Masters degree cyber security program focuses on demonstrating the required skill set of a Computer Forensic Investigator. Through this specialization, candidates who aspire to become digital forensics experts will learn the various aspects of digital forensics, including investigating network intrusions and mobile forensics. With a specialization in digital forensics, you may qualify as a Digital Forensic Investigator with the government at any level, as well as private industry––both on or leading an incident response team. The average digital forensics salary, according to PayScale, is $73,798.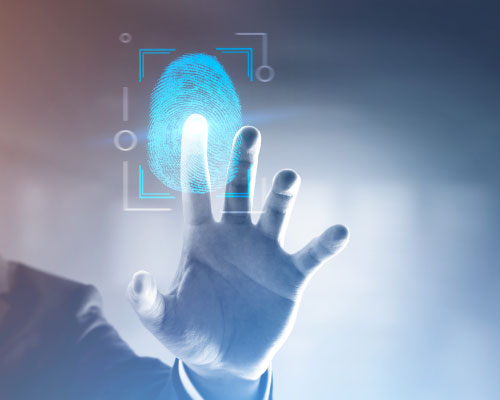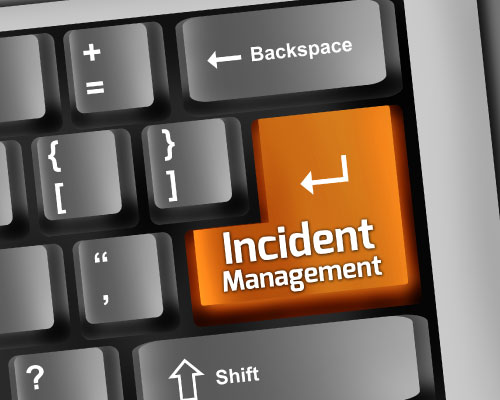 The Incident Management and Business Continuity specialization of ECCU's Master's degree cyber security program focuses on handling and responding to various security incidents, identifying vulnerabilities, and taking appropriate countermeasures to prevent information failure risks.
In this cybersecurity incident management and business continuity specialization of our master of science in cybersecurity program, you will be given the opportunity to train on incident handling, disaster recovery, business continuity, and much more.
The Executive Leadership in Information Assurance specialization of the Master of Science in cybersecurity program focuses on providing the fundamental skills that are required to understand global leadership concepts, bringing together all the components required for a C-Level information security position, and providing students with the knowledge of how to manage IT security projects to enhance the success rate for both organizations and IT managers. This Executive Leadership program specialization mostly leads individuals to assume the position of CISO (and even CTO) at companies.
Executive Leadership training under information security master's specialization includes global business leadership, executive governance and management, and project management in IT security.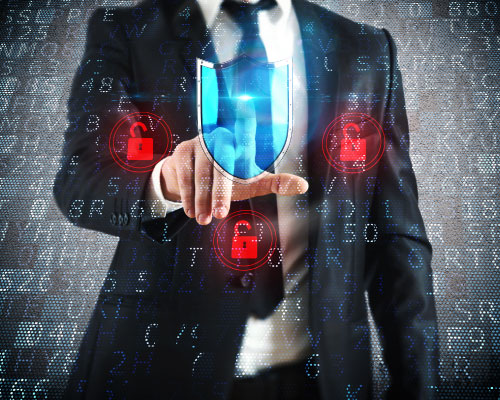 Fulfill your dream of becoming a
Cybersecurity Leader.
Become a student at
EC-Council University

today!
Course Description : Master's Degree in Cyber Security
ECCU 505 Introduction to Research and Writing
(3 Credits)
This foundational core course introduces students to basic English writing skills and research methods, including APA style writing, citing sources, determining when a website is credible, effective communication, outlines, and collaboration. Students will write/present portions of the above in the course in various formats.
MGMT 502 Business Essentials
(3 Credits)
This course will lay a broad foundation of understanding for global business principles for a varied population of students who work in businesses of all kinds, including the IT and IA fields. It covers the latest changes in Information Technology for Business, including computer-aided manufacturing (CAM), application software, and recent ethical issues arising from IT. Real-life business examples are added throughout the course that reinforce the business principles.
ECCU 504 Foundations of Organizational Behavior
(3 Credits)
This foundational course deals with organizational behavior and allows the technology practitioner to experience the basic facets of organizational theory and define the skills required to understand and apply the theory to a real organizational setting. Elements of the course are organizational structure, effective communication, team building, ethics, and project management as seen through the organizational lens.
ECCU 516 The Hacker Mind: Profiling the IT Criminal
(3 Credits)
Cyberspace has increased human communication, connectivity, creativity, capacity and crime by leaps and bounds in the last decade. For all of the positive aspects it offers, it offers as many negative aspects. Those negative aspects are explored and developed by everyone from the high school challenge hacker to international terrorists. The IT criminal threatens businesses, governmental agencies, militaries, and organizations of every kind. This course will survey the spectrum of psychological attributes of the IT criminal.
ECCU 514 Leadership and Management in Organizations
(3 Credits)
This course encompasses an extensive research project about cross-cultural differences in leadership conducted by a group of researchers in 62 countries. It lays a foundation for understanding the process of leadership. The study describes the roles, functions, and impact of global leadership concepts. Many team exercises provide the speed at which leaders must work. Research and views into how most cultures respond to this area of management are provided.
ECCU 500 Managing Secure Network Systems
(3 Credits)
This course focuses on evaluating network and Internet security issues, designing and implementing successful security policies and firewall strategies, and exposing the system and network vulnerabilities and defending against them. Topics include network protocols, network attacks, intrusion detection systems, packet filtering and proxy servers, Bastion hosts and honey pots, hardening routers, hardening security, email security, virtual private networks, and creating fault tolerance.
ECCU 507 Linux Networking and Security
(3 Credits)
This course explores the various tools and techniques commonly used by Linux system administrators. It is designed for students who have limited or no previous exposure to Linus. Emphasis is placed on writing a simple bash script, using a text editor, manage processes within the Linux file system.
Additional topics include making data secure, user security, and file security. Students will be required to take on the role of problem solvers and apply the concepts presented to situations that might occur in a work environment.
ECCU 501 Ethical Hacking and Countermeasures
(3 Credits)
This course focuses on how perimeter defenses work, how intruders escalate privileges, and methods of securing systems. Additional topics include intrusion detection, policy creation, social engineering, DoS attacks, buffer overflows, and virus creation.
ECCU 503 Security Analysis and Vulnerability Assessment
(3 Credits)
This course focuses on how to perform an effective penetration test in an enterprise network environment that must be attacked, exploited, evaded, and defended. Topics include Introduction to Penetration Testing and Methodologies, Penetration Testing Scoping and Engagement, Open-Source Intelligence (OSINT), Social Engineering Penetration Testing, External Network Penetration Testing, Internal Network Penetration Testing, and Network Penetration Testing for Perimeter Devices.
ECCU 506 Conducting Penetration and Security Tests
(3 Credits)
This course focuses on the mastery of the advanced penetration testing skills that real world practitioners face on the job. Topics include Web Application Penetration Testing, Wireless Penetration Testing, IoT Penetration Testing, OT and SCADA Penetration Testing, Cloud Penetration Testing, Binary Analysis and Exploitation, and Report Writing and Post Testing Actions.
Upon successful completion of the course, students may take the Certified Penetration Testing Professional (CPENT) exam through EC-Council.
ECCU 509 Securing Wireless Networks
(3 Credits)
This course focuses on the various methods of securing wireless networks including authentication, authorization, and encryption. Topics include radio frequency communications, infrared, Bluetooth, low-speed wireless local area networks, high-speed WLANs and WLAN security, digital cellular telephone, fixed wireless, and wireless communications in business.
ECCU 519: Capstone
(3 Credits)
The Capstone is the summative experience designed to allow students to demonstrate all program objectives and draw on the knowledge and skills learned throughout the entire program. Students can enroll in the Capstone after successful completion of all core degree requirements, but must be within six credit hours of graduation. Students must demonstrate attainment of a 3.0 cumulative grade point average and have the Registrar approval to register in this class.
ECCU 520: Advanced Network Defense
(3 Credits)
This course focuses on the fundamental areas of fortifying your defenses by discovering methods of developing a secure baseline and how to harden your enterprise architecture from the most advanced attacks. It provides segmentation and isolation to reduce the effectiveness of advanced persistent threats.
ECCU 524: Designing and Implementing Cloud Security
(3 Credits)
This course provides comprehensive knowledge of cloud services, their characteristics, benefits, applications, and service models. It covers planning, designing, and implementing cloud security controls. It delves into various cloud standards, countermeasures, and best practices to secure information in the cloud. The program also emphasizes the business aspects of cloud security such as cloud uptime, uptime guarantee, availability, fault tolerance, failover policy, and how cloud security strengthens the business case for cloud adoption.
ECCU 525: Securing Cloud Platforms
(3 Credits)
The sole purpose of this course is to reduce operating costs and increase efficiency by getting rid of on-premise servers; however, poor cloud security practices defeats this purpose as your environment might be open to attacks like ransomware, denial of service, data breach, and other activities that might cause irreversible damage to your company revenue and reputation or even completely shut down the business. This course will guide you on how to best manage the risk in your cloud environment with good overall security practices ranging from user accounts, data, and network. We will also focus on the largest cloud computing providers.
ECCU 510 Secure Programming
(3 Credits)
Certified Application Security Engineer (CASE) is a hands-on, Instructor-led, comprehensive application security course, which encompasses security activities involved in all of the phases of the Software Development Lifecycle (SDLC). The course also focuses on selecting and implementing the right security strategies, guidelines, and practices that are widely accepted and applicable to most environments used today.
ECCU 502 Investigating Network Intrusions and Computer Forensics
(3 Credits)
This course focuses on cyber-attack prevention, planning, detection, and incident response with the goals of counteracting cybercrime, cyber terrorism, and cyber predators, and making them accountable. Additional topics include fundamentals of computer forensics, forensic duplication and analysis, network surveillance, intrusion detection and response, incident response, anonymity, computer security policies and guidelines, and case studies.
ECCU 521: Managing Risk in Information Systems
(3 Credits)
This course focuses on the intricacies of manual acquisition (physical vs. logical) and advanced analysis using reverse engineering to understand how popular Mobile OSs are hardened to defend against common attacks and exploits. Topics include mobile forensic challenges and process, mobile hardware design and architectures, OS architecture, boot process, file systems, threats and security, evidence acquisition and analysis, application reverse engineering, and mobile forensics reporting and expert testimony.
ECCU 517 Auditing IT Infrastructures for Compliance
(3 Credits)
This course focuses on the legal issues affected by online criminal conduct, electronic evidence and the legal ramifications of neglecting trademarks, copyrights, patents, and digital rights. Topics include laws, regulations, and international standards; privacy laws governing law enforcement investigations in cyberspace; implications of cybercrimes upon the traditional notions of sovereignty; and current events that affect cyber laws. Prerequisite ECCU 505.
ECCU 522: Incident Handling and Response
(3 Credits)
This course addresses various underlying principles and techniques for detecting and responding to current and emerging computer security threats. Additional emphasis is placed on computer forensics and its role in handling and responding to incidents. Through this course, students will be proficient in handling and responding to various security incidents such as network security incidents, malicious code incidents, insider attack threats, incident response teams, incident management training methods, and incident recovery techniques in detail.
ECCU 513 Disaster Recovery
(3 Credits)
This course focuses on disaster recovery principles including assessment of risks to an enterprise, development of disaster recovery policies and procedures, the roles and relationships of various members of an organization, preparation of a disaster recovery plan, testing and rehearsal of the plan, implementation of the plan, and recovering from a disaster. Additional emphasis is placed on identifying vulnerabilities and taking appropriate countermeasures to prevent information failure risks.
ECCU 512 Beyond Business Continuity
(3 Credits)
Whether an organization has experienced a disaster, downsizing, a shift in culture, or a change in leadership, it will experience organizational change. This change demands remembering the past, finding ways to recover from it, engaging the future, and energizing change. Leaders in change must have the skills to identify, structure, forecast, envision, design, plan, implement, account for, and lead a team through change that has been strategically planned to advance the organization. Such a leader is a change agent and must understand the process, expectations, and nuances of change.
ECCU 511 Global Business Leadership
(3 Credits)
This course is designed to provide fundamental skills needed to understand global leadership concepts such as developing technological savvy, appreciating diversity, building partnerships, creating a shared vision, maintaining a competitive advantage, integrity, and leading for change. This is a study of current and historical leadership theories with an emphasis on viewing the leadership function in the context of global organizational behavior and organizational designs.
ECCU 523 – Executive Information Security Management/ Executive Governance and Management
(3 Credits)
This course is designed to bring together all the components required for a C-Level position by combining Governance, Security Risk Management, Controls, and Audit Management, Security Program Management and Operations, Information Security Core Concepts, Strategic Planning, Finance, and Vendor Management to lead a highly successful IS program.
ECCU 515 Project Management in IT Security
(3 Credits)
This course looks at project management from a cybersecurity planning perspective – specifically IT Project Management. Students will learn how to use the IT framework to develop an effective IT security project plan. This process will help reinforce IT project management skills while providing the student with a road map for implementing IT security in an organization.