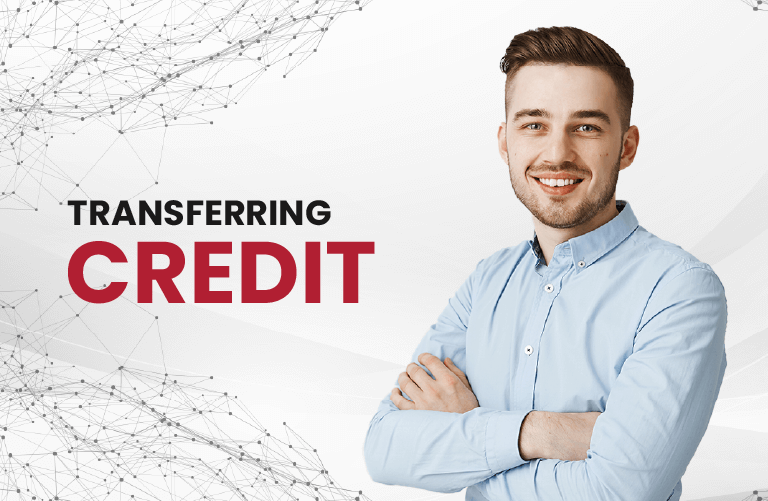 New Term Starts on January 5, 2024
Turn Your Certification into a Degree!
As a prospective EC-Council University student and current EC-Council Certification holder, you can also earn Semester credits toward your courses based on your prior learning/industry certifications.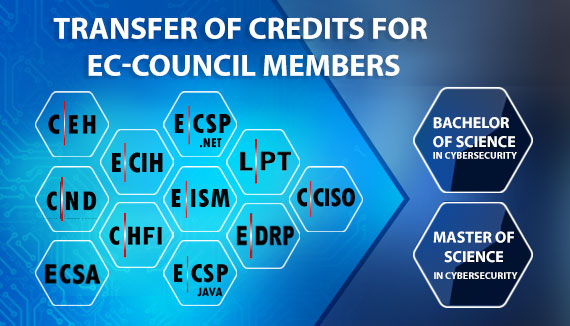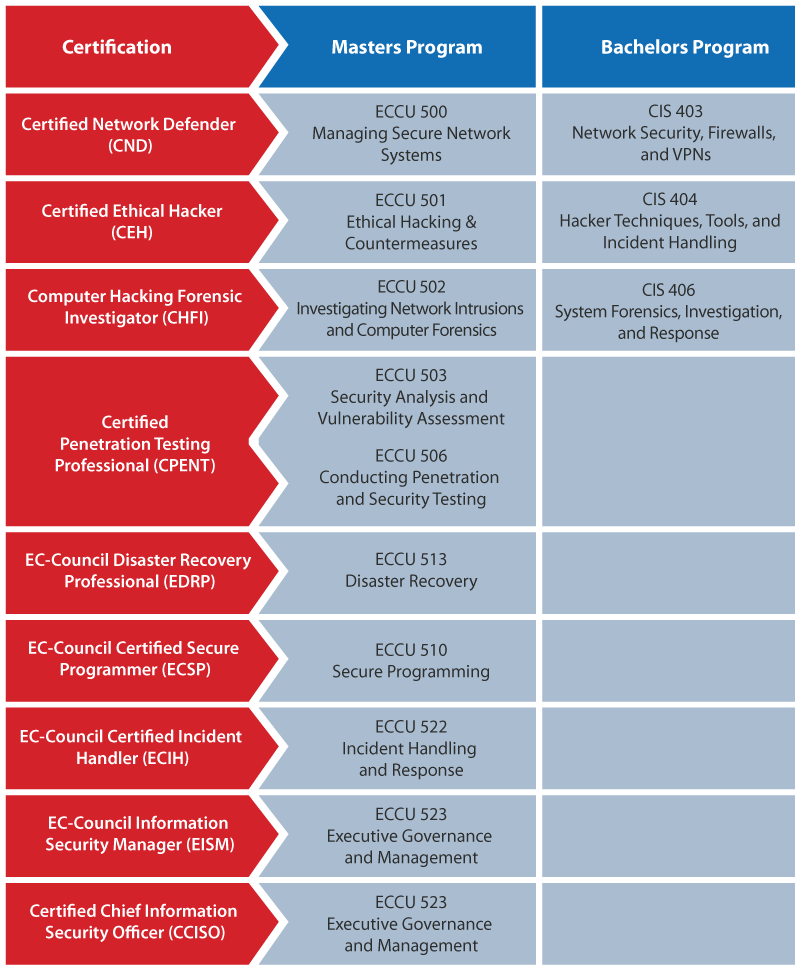 Course Transfer Credits
EC-Council University accepts college-level courses for consideration of transfer from accredited U.S. or foreign equivalent institutions on a case-by-case basis. Computer technology courses (including academic cybersecurity credits) must have been earned within the last ten years for consideration. Semester Credits must be from institutions accredited by an agency recognized by the U.S. Secretary of Education and/or the Council for Higher Education Accreditation (CHEA), or an accepted foreign equivalent that is listed in the International Handbook of Universities. The classes must closely correspond with EC-Council University courses and the student must have earned a grade of "B" or higher for the Master's and Graduate Certificate Programs. All course transfer semester credits for the Bachelor's program must be a "C" or better.
To begin the process, submit an official transcript or NACES/NAFSA evaluation. ECCU will evaluate all transcripts for potential transfer credit. The transfer semester credit must come from classes equivalent to the same level of education and learning outcomes as the degree coursework. Students may receive a maximum of 18 graduate semester credit hours of transfer credit in the graduate program and 30 Semester credits of transfer credit in addition to the required 60-semester credits for admission for a total of 90 transfer semester credit hours in the undergraduate program.
Transfer credits are not considered in the calculation of the student's ECCU cumulative GPA. Transfer credits accepted will count for both attempted and completed credits for the Satisfactory Academic Progress calculation of pace of completion (Percentage of Credit Completion – PCC). All transfer credits must map to ECCU program course requirements to be utilized as transfer credit. General education course requirements are 25% of the total transfer credit and the total of the undergraduate program requirements. Minimum Math and English requirements are considered a part of the General Education requirement for undergraduate students. EC-Council University may also accept transfer credits from military and other non-traditional sources such as credits recommended by American Council on Education (ACE) or National College Credit Recommendation Service (NCCRS); other sources may be considered. All non-traditional credits will be considered on a case-by-case basis.
Transferability of EC-Council University Credit
Decisions concerning the acceptance of semester credits or degrees earned at EC-Council University are at the discretion of the receiving institution. Students considering continuing their educations at or transferring to another institution must not assume that the receiving institution will accept credits or degrees earned at ECCU. An institution's licensure or accreditation does not guarantee that Semester credits or degrees earned at that institution will be accepted for transfer by any other institution. Students must contact the registrar of the receiving institution to determine what credits or degrees earned the other institution will accept.
Prior Learning Assessment
As a prospective EC-Council University student, you may be awarded appropriate credit for your demonstrated knowledge gained from industry certifications. To request credit, based on industry certifications, you are required to provide documentation of the certificates for the course(s) for which you are seeking credit. Credit for industrycertificates is awarded based on an assessment by ECCU administrative team. Certifications must not be older than one year past the expiration date. Certifications can only be used in one program, e.g., if a student started in the Bachelor's program and transferred in their CEH (Certified Ethical Hacker) to apply for the CIS 404 Course.
After completing their BSCS degree, the student wants to complete their MSCS degree; they cannot use the CEH and transfer it in for the ECCU 501 (Master's equivalent)
course.
Submit all supporting documents to [email protected]. You will be notified of what, if any, credit you will receive and how it will apply to your degree plan.
Maximum Allowable Transfer Credit
Students may receive a maximum of 18 semester credit hours of graduate credit and 30 hours of undergraduate semester credit of transfer certification credits as evaluated using the prior learning portfolio. Students may not receive both graduate and undergraduate credit for the same certifications. The limit for a total award of transfer credit, including both credit awarded for courses from other universities and credit awarded from the prior learning portfolio, may not exceed 90 hours for the undergraduate program and 18 semester credit hours for the Master of Science in Cybersecurity program. Three transfer credits may not be used to meet credit requirements for the graduate certificates. Transfer/certification credits are not considered in the calculation of the student's ECCU cumulative GPA.