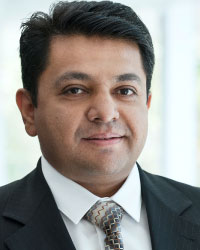 Speaker: Zubair Baig,
Designation: Senior Lecturer, Cyber Security and Co-Director, Security and Privacy in IoT Research Lab
Topic: Choosing the Right Cybersecurity Career Pathway: Degree or Certification?
Date of Webinar: 15th April, 2021
Time and Location: 4:30 PM AEST/ 12:00 PM IST/ 7:30 AM BST
Watch Now
Speaker Bio:
Dr. Zubair Baig is a Senior Lecturer, Cyber Security, with the School of Information Technology, Deakin University, Geelong, Australia. Zubair has over 95 publications in international journals and conferences, and 2 US patents on the topic of authentication for IPv6 networks. He has delivered over 15 keynote talks on cybersecurity internationally and is an editor for 3 international peer-reviewed journals.
Zubair is the Co-Director of the Security and Privacy in IoT Research Lab, as well as the Director of the Master of Cyber Security course at Deakin University.
Topic Abstract:
The choice of cybersecurity as a career can be both exciting as well as convoluted. Several options exist for high schoolers to decide — should you first do a degree in cybersecurity, or an embedded cybersecurity specialization? How about graduating as a computer scientist and then getting a cybersecurity certification? This talk will provide students with ideas about choices they can make as cybersecurity aspirants.
Key takeaways:
Cybersecurity career paths available.
Cybersecurity skill sets required by the market.
Skill sets rendered through tertiary training.
*Examples, analysis, views and opinion shared by the speakers are personal and not endorsed by EC-Council or their respective employer(s)