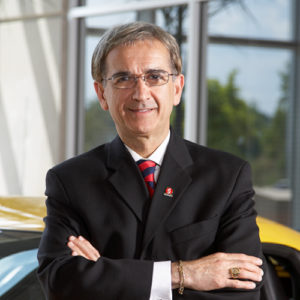 GEORGE SEHI, PH.D
Member, Board of Directors
B.S. in Civil Engineering, M.S. in Mechanical Engineering and a Ph.D. in Academic Administration from Southern Illinois University.
Graduate of the Harvard Leadership and Management in Education Institute, Graduate School of Education.
Dr. George H. Sehi is currently serving on Warren County Area Progress Council Board, Otterbein Homes Board of Directors, North East Chamber of Commerce Board and Mason-Deerfield Art Alliance Board.
He has served the educational community in southwestern Ohio for 28 years by contributing to numerous community boards and work groups striving to improve the economic well-being of the region.
Dr. Sehi is also the founding Executive Dean of Sinclair Community College Courseview Campus in Mason, having served as the Executive Dean from September 2007 to September 2012. He was at Sinclair as the Chair of Mechanical Engineering Technology and Dean of the Science, Mathematics and Engineering division since 1986.
As the Chief Administrative Officer for the Courseview campus he was instrumental in growing the campus from 345 students in fall 2007 to 1300 in fall 2012. Under Dr. Sehi's leadership the Southwest University Partnership was formed under which Miami University, Wright State University, University of Dayton, University of Cincinnati and Wilmington College can offer upper division and graduate level courses and programs at Courseview campus.
Dr. Sehi has taught various engineering related subjects since 1981. Over 70 academic institutions across the United States and abroad have benefited from his expertise while he has served on boards and commissions. He has been a Consulting Evaluator for North Central Association, TAC/ABET, ACICS and other accrediting commissions.
Awards and Recognitions: Dr. Sehi received the Award for Outstanding Professional Achievement from the Engineering & Science Foundation of Dayton in 1998 and also received the 1999 Frederick J.
Berger award through the American Society for Engineering Education. He has received the status of Fellow Member from the American Society for Mechanical Engineers and the American Society for Engineering Education. In 2010 he received the Outstanding Leadership award from the Northeast Cincinnati Chamber of Commerce. Dr. Sehi has been a national speaker and consultant in Canada, Japan, Germany, Mexico, Iran, Singapore and China.
Dr. Sehi and his two daughters Alexandra and Gabrielle have lived in the Cincinnati area since 1987.