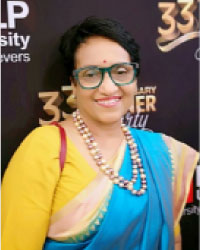 Speaker Professor Dr. Jayati Roy (Ph.D.),
Designation: Professor at HELP University (Kuala Lumpur)
Topic: Impact of online learning during the lockdown
Date of Webinar: 27th July, 2020
Time and Location: 5:30 pm SGT/ 3:00 pm IST/ 12:30 pm KSA
Register Now
Speaker Bio:
Professor Dr. Jayati Roy of HELP University, Kuala Lumpur, has had a chequered career in both academia and the corporate sector for many decades. As an educator, trainer, coach, and writer she has had a passion for distance education and online learning that has spanned more than three decades.
As an international speaker and trainer, she has spoken in many countries, including the United States, India, New Zealand, the UK, and the Philippines. She has also been the recipient of numerous awards for excellence in teaching, as well as for her writing.
Abstract:
Online learning today has been thrust forward to a new and dynamic platform, never seen before. With the emergence of the fourth industrial revolution and Industry 4.0, there has been an unprecedented shift, almost a tectonic shift one may say, in the ecosystem of online learning. This, however, has been further exacerbated with the lockdown experienced around the world because of the COVID- 19 pandemic.
In this webinar, we will examine past research in student satisfaction, which has always been a barometer for assessing the success of online learning. We will also review this in the context of the challenges that are faced today, in a world that is at a standstill.
Key Takeaways:
What is industry 4.0 and how does it affect us?
The current state of online learning
How online learning is affecting students
Note:
Are you up for a surprise? Pay close attention to what our speaker is saying during the Webinar and brace yourself for questions that we will be asking you via our Kwizzer App. Sending the right answers can help you win exciting prizes that will be announced at the end of the Webinar! Download the App on your phone today and get ready for a fun interactive session.
Participating candidates will receive a Certificate of Attendance