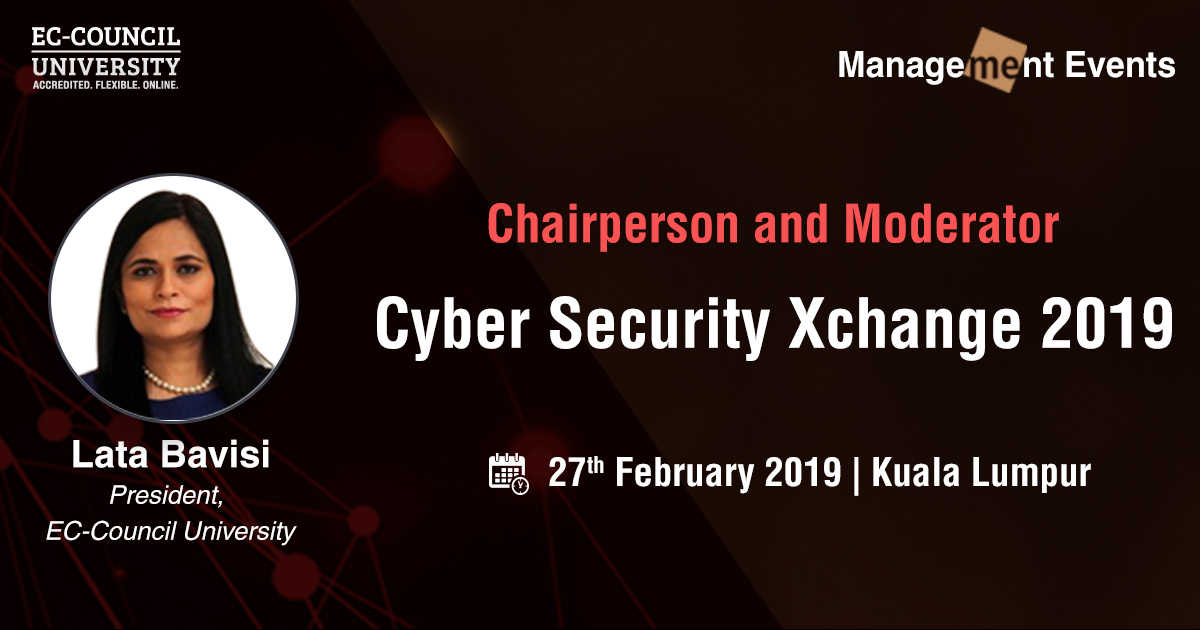 EC-Council University is partnering with Management Events for their upcoming event where EC-Council University's President, Lata Bavisi, will be the Chairperson of the Presentation Sessions on "Techno Boost: Step up you Cyber Game" and Moderator for the Panel Discussion on "Security Created in the Cloud: Comprehensive Approaches to Cyber Security.
Reboot your security mindset and keep up with the sophistication and technological advancement of upcoming cyber-attacks. Join us at the Cyber Security XChange 2019  to build your cyber security resilience, and leverage on the efficiency of AI, machine learning and advanced intelligence systems.
Attendees will benefit from keynote presentations, real-life case studies and interactive workshops. Let's get inspired, share experiences and engage with some of the world's best cyber security experts!
Date: 27-02-2019
Place: Kuala Lumpur
Other Distinguished speakers include:
Eric Strom, Assistant Legal Attaché the Hague, FBI Liaison at Europol
John Martin, Program Manager, Information Security, Boeing, USA
Dato' TS. Dr. Haji Amirudin Bin Abdul Wahab, Chief Executive Officer, CyberSecurity Malaysia
Helaine Leggat, Principal Lawyer, Cyberlaw Sladen Legal, Australia & Director, The Australian Information Security Association (AISA)
Redza Goh, Group Chief Information Officer, Petronas, Malaysia
Bithal Bhardwaj, Chief Information Security Officer, GE South Asia and China
Theo Nassiokas, Director, APAC, Cyber and Information Security (CISO) Barclays, Singapore
For more information, please contact Didi Jaafar at [email protected] or register here.