About the Program
EC-Council University (ECCU) and Sabi University (SU) have come together to create customized, fast-track, credit based dual-degree programs. These degree programs would be an exceptional asset to professionals looking to learn the finesse of a global management program and the intricacies of a highly technical subject such as cybersecurity.
A dual degree program is when student is working for two different university degrees in parallel, completing them in the a comparatively lesser amount of time than what it would normally take to do two separate degrees.
Program Objectives
The unique MSCS and EMBA degree can promote educational and career opportunities for the students of SU and ECCU. The program course has been designed in a unique style that allows for preservation of credits. To provide a smooth curriculum transition for students, this program allows them to transfer from SU to ECCU, as well as, from ECCU to SU without the loss of credits or duplication of coursework.
All existing and newly enrolled students from Sabi University will benefit from this dual degree program as they can acquire an Executive Masters in Business Administration (EMBA) or Doctorate of Business Administration (DBA) degrees and the core courses in the cybersecurity specialization coming from ECCU.
Course Descriptions
Masters of Business Administration in Cybersecurity
Usually it would take a student, 36 credit hours' worth to secure the MSCS degree by ECCU. A student of the Joint EMBA- MSCS degree program however has the ability to complete both degrees in 39 credit hours — 18 credits hours' in business management from SU and 21 credit hours in Cybersecurity from ECCU. They can study courses of the EMBA and MSCS program and will have the privilege of attaining two fully accredited Master degrees programs.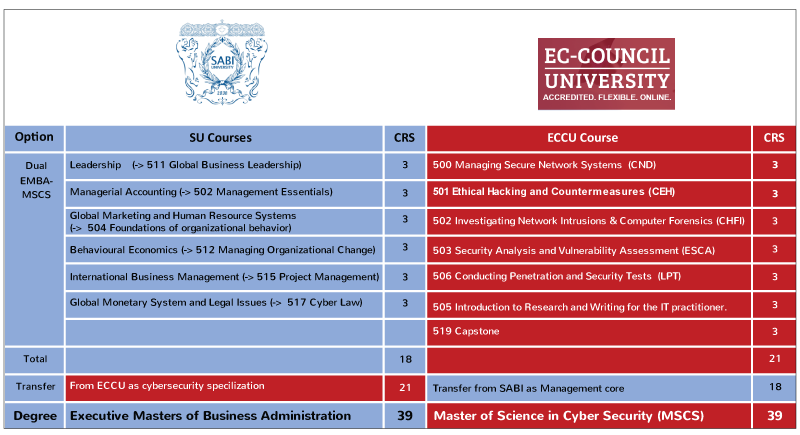 Doctorate of Business Administration (DBA) in Cybersecurity
Students of the joint EMBA-MSCS program, with a minimum work experience of 3 years, have a fast track to a Doctorate laid out for them. With the 21 credit hours in cybersecurity that a student gains from the EMBA in Cyber Security program, one can seamlessly make a transition to the DBA program and have the 21 credits hours' worth transferred. This implies that in just 39 more credits hours' worth, the said candidate can gain a Doctorate Degree to their credit.
Cybersecurity students from the full MSCS at ECCU also have the option to upgrade to a Executive Doctorate in Business AdministrationProgram in Cybersecurity.
Candidates with 10 years' work experience and the full MSCS program of 36 credits hours' worth of education to their name, can experience a seamless transfer of credits to Sabi University for the Executive EDBA program. This means that a candidate fulfilling such requirements will only need to put in an additional 24 credit hours' worth, to attain a Doctorate Degree.

EC-Council Certifications
All the programs contain core cyber security content that maps to EC-Councils industry certifications, which can be tested for at the completion of each the five courses that contain the material for the certification exams. These will be provided at no cost to students who successfully complete the associated graduate course. The certifications are: