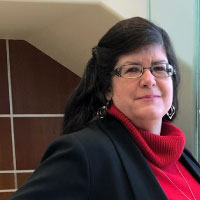 Speaker Charlene K. Coon,
Designation: Lead Information Security Systems Engineer at L3harris Technologies
Topic: Women Wanted: Benefits of Cybersecurity Careers
Date of Webinar: 5th Mar, 2020
Time and Location: 8.30 pm MST/ 9:00 am IST/ 11.30 am SGT
Watch Now
Speaker Bio:
Charlene K. Coon is a cybersecurity leader with over 20 years of experience in cybersecurity, information technology, and Sr. executive management. She is currently pursuing her Doctoral of Computer Science – Cybersecurity and Information Assurance. She supports an international cyber portfolio of programs as large as 2B dollars and joined the cyber ranks initially by meeting the challenge to become EC-Council certified as a Certified Ethical Hacker (CEH). Since the EC-Council introduction (a.k.a. addiction) into cybersecurity, Charlene has received a Master of Information Security and Assurance and over 20 industry certifications and certificates. She currently works for the 6th largest U.S. government contractor, L3Harris, whose clients have some of the highest security standards in the world. Charlene also leads the Global Empowerment of Women in Cybersecurity group, an effort to help more women fall in love with cybersecurity, provide a path to offering scholarships, provide a resource for companies to outreach to women in cybersecurity, bring mentors on board, and provide a networking forum for cybersecurity women globally.
Topic Abstract:
This webinar will present the key benefits of why more women should opt to build a career in cybersecurity and how they can do so. Cybersecurity roles are varied and in high demand across the world, and (bonus) women are very good at cybersecurity! Yet, they are underrepresented in the industry.
Bricata's 2019 research reported that:
69% of their teams are understaffed: significantly by 21% and somewhat by 48%
58% have unfilled cybersecurity positions open
32% report hiring takes six months or longer to find candidates – this was only 26%, in 2018
82% cited employers having to re-evaluate their own pay scales due to employees having to be replaced when competitors offer better financial incentives, as the industry becomes very comparative and understaffed
This webinar will focus on the fears and hurdles of entering the cybersecurity, and how you can overcome them! Cybersecurity is a very lucrative career path and is in high demand. The United States, Mondo (2019) reports that the average salary range in common cybersecurity roles is:
CISOs: $175,000 – $275,000
Information security managers: $120,000 – $185,000
Application security engineers: $120,000 – $182,500
Network security engineers: $115,000 – $172,500
Cybersecurity engineers: $110,000 – $165,000
Come and see what the hype about women transitioning into cybersecurity roles is about!
*Examples, analysis, views and opinion shared by the speakers are personal and not endorsed by EC-Council or their respective employer(s)